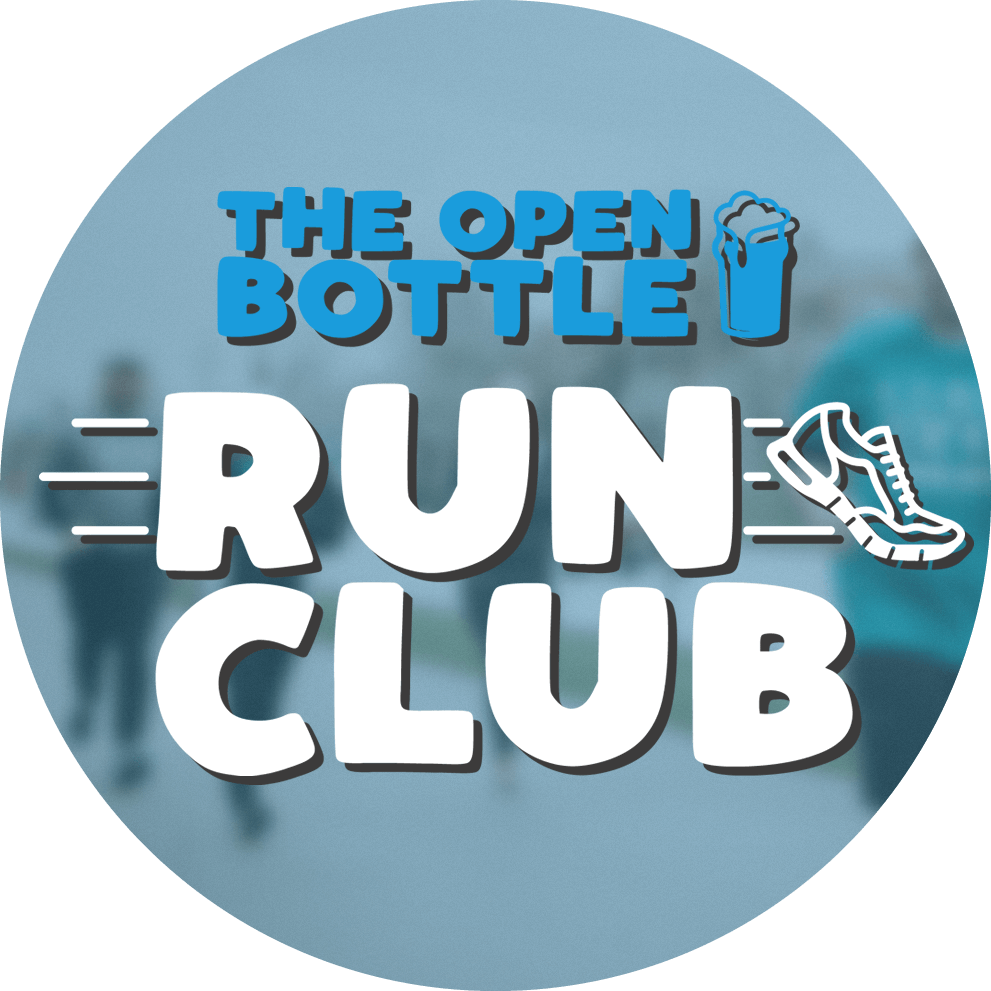 The craft beer life is always a fun, social, and delicious one. But it's often a sedentary one as well. We're changing that one step at a time with The Open Bottle Run Club!
From amateurs to experts, first-timers to marathon runners, TOBRC is open to all levels of running! Join us from April to October on the 2nd Saturday of the month at our Lockport location and on the last Saturday of the month at our Tinley Park location for a 3-mile morning run at 11am! We will open early at 10am on run club days.
Saturday, April 8th marks the beginning of the 2023 season at Lockport and Saturday, October 28th is the final run at Tinley Park. Each run will start and finish at The Open Bottle. When runners finish the route, they'll get a draft beer at the finish!
Run Club Punch Cards
Every shirt will come with a TOBRC punch card! We will punch your card every month when you run at one of our locations. One punch per month at either location.
Get 7 punches to complete your card, and redeem your punch card for 50% OFF your entire draft bill during the first 2 weeks of November! (11/1 – 11/14/23)
NEW! Pot Luck!
Join us after the FIRST run at each location and the LAST run at each location for our first ever… RUN CLUB POT LUCK! We'll bring the coffee & donuts, and you bring your favorite post-run snack to share with your fellow runners.
NEW! We have new merch for our run clubbers, and we're now accepting pre-orders until March 22nd!
SHIRTS
This year's shirts are brand new 100% polyester performance-style shirts with moisture management. As usual, buy a shirt and receive a draft beer at the finish line when you run in your TOBRC shirt. You DO NOT have to buy a shirt to participate, but purchasing and wearing your 2023 TOBRC shirt during every run will guarantee you one designated draft beer.
HATS
Hats are mid-profile, snapback with 100% quick-dry nylon and are lightweight.
WATER BOTTLES
Water bottles are 21 oz. insulated Camelbak Podium Chill bottles.
Emails will be sent out when your merch order is ready for pickup. Please carefully select your preferred pickup location at checkout. We will not transfer merch between locations. We will have a limited amount of merch for sale starting on the day of our first run at both stores.
Before each run, we will post the designated TOBRC draft beer to our Facebook event page. Now dust off those running shoes and let's RUN!
---
Join TOBRC on Strava!